Torres Del Paine recently introduced an online booking system for campsites within the park. This is a super-simple guide to help you figure out which campsites you need to book for your W Trek and how to book them.
Firstly, why is the Torres Del Paine campsite booking so confusing?
Because there are three different companies to book campsites with, each with their own booking systems. I've outlined the three below.
1. CONAF Campsites (Free)
These are campsites run by CONAF. On the W-Trek, there only two CONAF campsites are: Italiano and Torres. That means that it is very difficult to do the W-Trek without at least 1 paid campsite. Spots in these free campsites go quick as hasty backpackers snap up the free spots online.
As the campsite is free, the facilities are not as good as the paid campsites.
2. Fantastico Sur (Paid)
Word of the street is that Fantastico Sur campsites are quite a treat with nice facilities. They are easy to work with if you need to change your reservation.
Meals and gear rental (mats, tents, sleeping bags, etc.) are available with them.
3. Vertice (Paid)
Vertice campsites will have better facilities than the free CONAF campsites. However, their booking system is not as smooth as Fantastico, making changes a little more difficult (but still possible, advisable to use email as best communication method).
Meals and gear rental (mats, tents, sleeping bags, etc.) are available with them.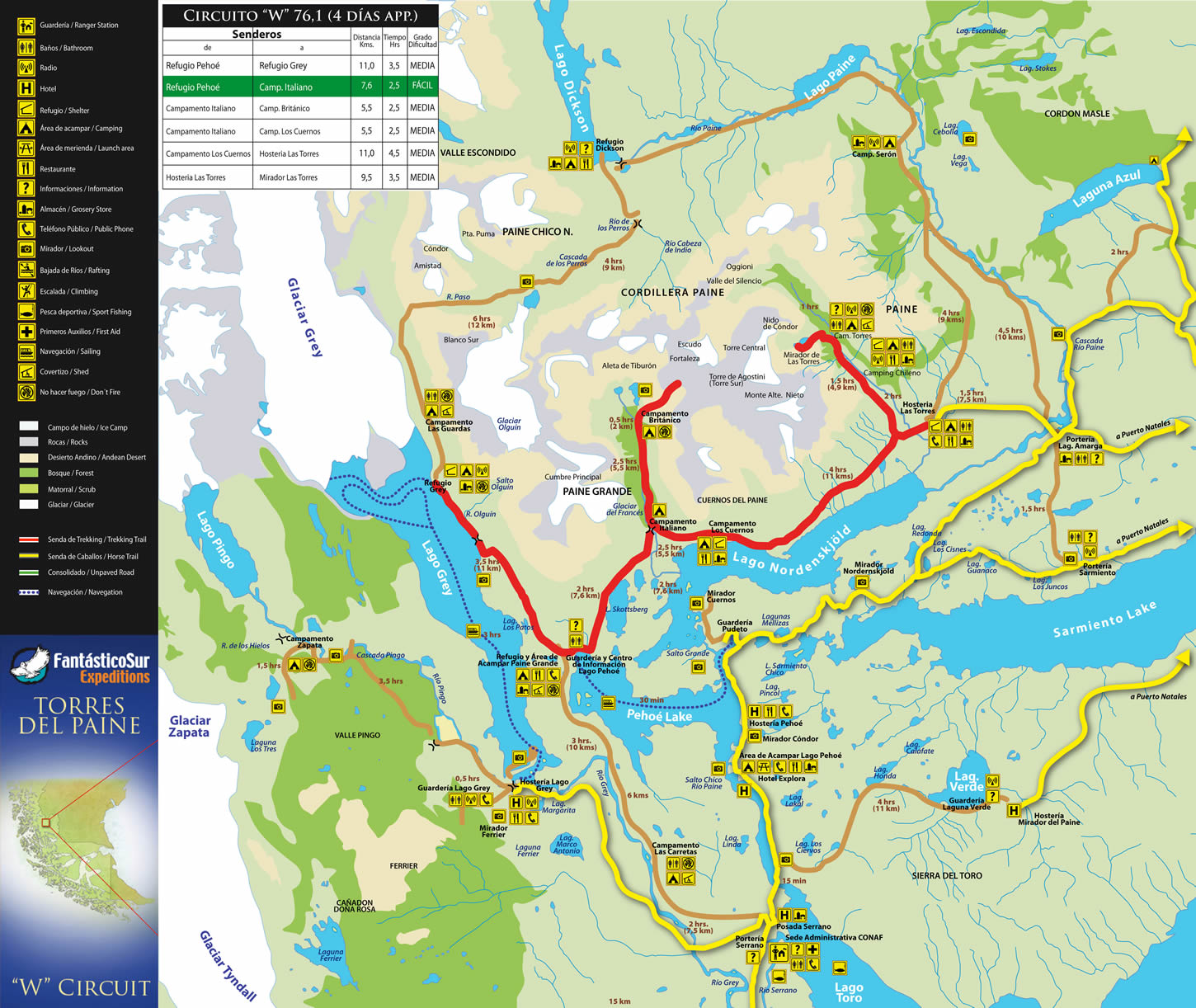 Direction: Hiking West - East
You start from the left (Glacier Grey) and hike to the right (Las Torres). This means you will end your trek seeing the famous Torres Del Paine peaks. If you'd like, you can also hike in the opposite direction.
Note: BEFORE you do any booking, check that the campsites you want are available for the days that you want them.
Day 1:
Once you've entered the National Park, you need to take a catamaran across Lake Pehoe. Then you have the choice of camping at Campamento Paine Grande (you'll be able to leave your backpacks there while you do the hike there and back to see Glacier Grey) OR you camp at Campamento Grey.
Day 2:
From wherever you chose to camp, you need to walk to Campamento Italiano. Here you can leave your backpacks while you do the hike up to see Valle del Frances. Upon your return, you can stay at any of the following campsites.
Day 3:
From wherever you chose to camp, you'll need to walk to the base of the Las Torres area. If you stay at Campamento Central, you'll be able to leave your backpack there while you continue uphill to the Paine Lookout (4 - 4.5 hours).
If you stay at Campamento El Chileno or Campamento Torres, you'll have to carry your backpack uphill to your campsite. For example, if you stay at Campamento Torres you'll have to walk 3.5 hours uphill. The bright side is that you'll be closer to the Paine Lookout (45 mins away) and can easily go up multiple times (e.g. for a sunset view on Day 3 and a sunrise view on Day 4).
Day 4:
People normally try to go up to the Paine Lookout for dawn. If you're staying further down (i.e. Campamento Central) you'll need to start during the night to get there by dawn.
Buses out of the park depart from the Hosteria Las Torres area.
Hope that helps to simplify the process for you!
If there are any updates or anything I need to change, absolutely let me know so that I can keep this accurate and relevant for everyone. :)